Making custom socks is frankly an easy process——you can just send us a logo and pick your preferred sock styles and then, we will make the custom logo socks and send out them to your office.
Above is with the default custom sock setup, but we do offer many other options and add-on services to meet customers' needs. For example, we offer socks in different sizes (one-size, men's, women's, teen's), different styles(custom dress socks, athletic crew socks, quarter socks, knee socks, ankle socks, etc.), and we offer socks w/ or w/o extra terry on foot, and more…
As for add-on services, we are offering rush orders and pre-production samples (spec samples) at a small cost. We also offer custom made tags or wrap sleeves on which you can print your logo and contact information too.
Base Custom Socks Setup Pricing
Our default setup is to make custom dress socks with your logo, in One-Size, without terry on foot. Our custom socks will always be made with 80% premium combed cotton + 17% Polyamide +3% Lycra, a well recognized sock material composition among our customers.
You can find the pricing of our default setup as below. If you have came across other custom socks providers in the market, you can find our offering is only 50% price of them, starting from $3.99, and we even offer a lowest MOQ of 50 pairs.
| | | |
| --- | --- | --- |
| Quantity in pairs | Regular Price | Limited-time Offer |
| 1,000+ | $6.99 | Contact us* |
| 750-1,000 | $7.99 | $3.99/pair |
| 500-750 | $8.99 | $4.99/pair |
| 250-500 | $9.99 | $5.99/pair |
| 100-250 | $10.99 | $6.99/pair |
| 75-100 | $12.99 | $7.99/pair |
| 50-75 | $13.99 | $8.99/pair |
*Contact us for wholesale price for 1,000+ pairs.
You can get premium quality custom logo socks at an affordable price at sockcustom.com.
Regardless of how many pairs of custom sock you order, the above price table already includes free design and free shipping, you get all uncompromising services.
Custom Sock Options (All Free)
On top of the basic setup package of custom socks, we are offering different options that might interest you in your project.
| | | |
| --- | --- | --- |
| Custom Sock options | Details | Extra Cost |
| Different sizing | One-size, Men's, Women's | 💗Free |
| Extra terry on foot | On heel, toe, and sole | 💗Free |
| Add Mesh ares | On top of foot | 💗Free |
| Thicker socks | Use a thicker yarn for knitting | 💗Free |
Different custom sock options at sockcustom.com
To choose different options, you can simply name your options in our email conversations.
Custom sock sizing options (Free)
We are offering 3 main sizes, i.e. One-size, Men's and Women's. The One-size option is usually good to go for most customers, it can fit most people (the polyamide material in the sock is to keep the sock stretchable). Alternatively if you are serious about sizes, you can choose men's and women's sizes for your order, it's free of charge!
| | | | |
| --- | --- | --- | --- |
| Size | US | Euro | Uk |
| One-size | 6.5-10 | 36-42 | 3-6.5 |
| Women's | 5-7.5 | 35-39 | 2-5 |
| Men's | 9.5-12 | 41-46 | 6-9.5 |
Different sizes options at sockcustom.com
And of course we can make smaller-sized socks too. See below for an example when the Women's size is compared with the teenager's size.
Add extra terry on foot for better comfort and support (Free)
For extra comfort sometimes people want extra terry to be knitted on sock sole area. It's usually good for sports activities. However do note that in the terry area, you are limited to knit extra patterns.
This can be half terry or full terry on sole, respectively:
Half terry: Add extra cushion terry layer on heel and toe only;
Full terry: Add extra cushion terry layer on heel, toe and sole;
Add mesh areas on socks to make custom socks more breathable (Free)
Mesh areas are usually on the top of foot, it allows the sock to breathe more fluently so your feet feels cool and relaxed. This is useful for sports activities.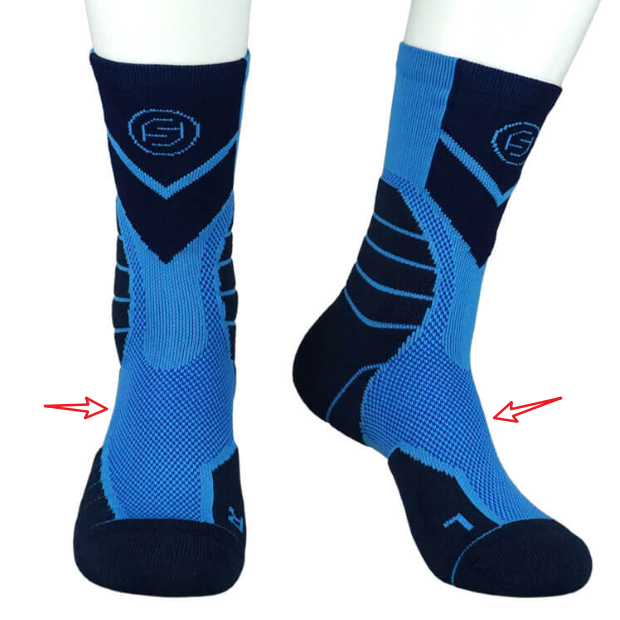 Thicker socks (Free)
We have 2 thickness options. The regular-thickness option and the thicker option:
Regular-thickness socks: Ideal for All season;
Thicker socks: Ideal for winter only;
Add-on Services for your Custom Sock Project
To choose add-on services, you can choose the corresponding services in the place custom sock order page. We will review your order and prepare your custom tag design and etc.
Custom made tags or wrap sleeves (+ $0.5/pair)
By default all socks will come with a elegantly-designed tag (with SockCustomTM brand info).
You are also allowed to design your custom tags or wrap sleeves for packaging. For this service we charge an extra $0.5 per pair, including designing, production and installment.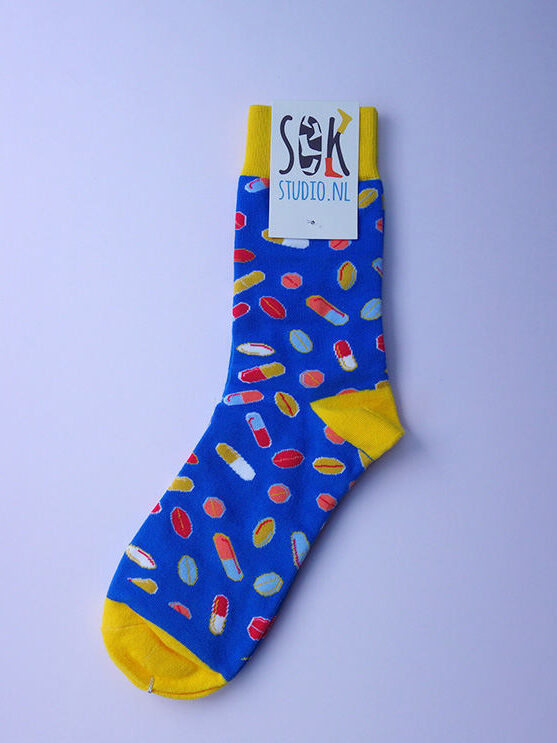 Rush order (+ $2/pair)
Normally our production time is 2 weeks after your approval of the digital design mockup. If you want to speed up the process we also offer production in 1 week only. This will cost you an extra of $2 per pair.
Kindly note that the air delivery after production will cost you another 1-2 weeks, so please remember take this into calculation for your deadline.
| | |
| --- | --- |
| Make-Custom-Socks Process | Lead-time |
| Design mockup | 3 days |
| |–Require pre-production sample? | +2 weeks (on delivery and communication) |
| Production | 2 weeks (1 week for rush orders) |
| Air express delivery | 1-2 weeks |
Lead-time for making custom socks
Ask for pre-production custom sock samples delivered for review (+ $150)
A pre-productions sample serves as a spec sample before moving into bulk production, to avoid any misunderstandings on the sock design, and to confirm the final look and feeling of the sock samples.
Pre-production samples are usually not necessary because we have very experienced design team and workers. However we do offer to send out pre-production samples on your request. We charge an extra $150USD for this add-on service, including sampling (and possible revisions) and express delivery.
Conclusions
In this post we have introduced all possible custom sock options (style, sizes, thickness, terry, etc.) and add-on services (rush order, custom made tags/sleeves, pre-production samples etc.) here at sockcustom.com. All options are free and you can also pick your add-on services at a small cost.
Click the button and let's get your custom logo sock project started Today!